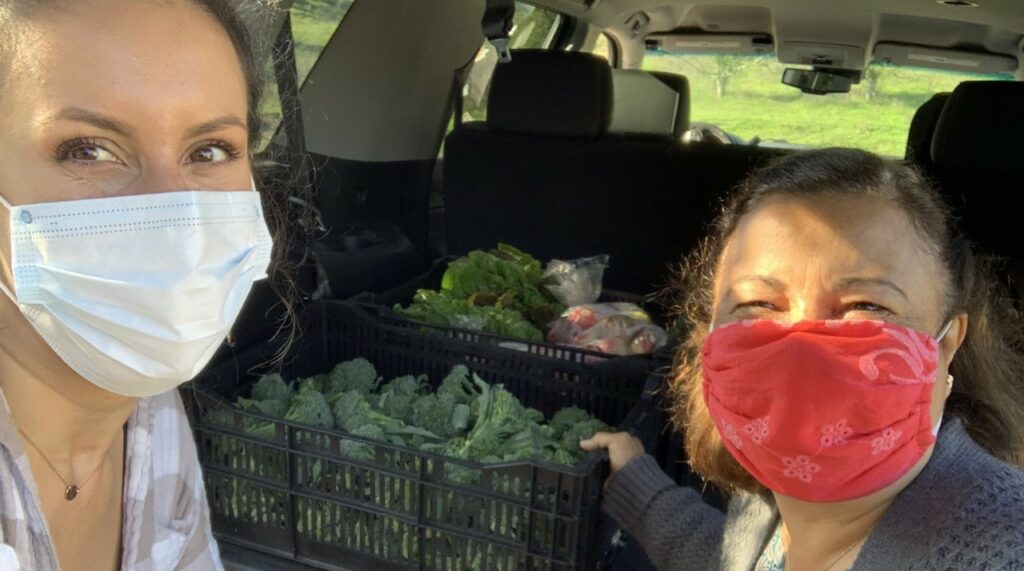 Organization Mission
Farm Discovery at Live Earth empowers youth and families to build and sustain healthy food, farming, social and natural systems.
On our organic farm youth learn to grow and prepare healthy, plant-based foods from the field to the table. We provide year-round opportunities for kids and families in nine hands-on programs to learn and participate in a sustainable food system. We believe we can transform personal and community health and improve our impact on earth by building and sustaining collaborative agricultural, ecological and social systems.
The Big Idea 2022:
Community Produce Distribution + Nutrition Education
Farm Discovery at Live Earth seeks to maintain and expand our organic produce distribution and nutrition education program, providing fresh, organic produce to vulnerable community members through 4+ partner organizations.
The program increases access to fresh fruits and vegetables, nutrition and environmental education, and relieves food and nutrition insecurity, resulting in improved community health and environmental stewardship.
We donated 96,000 lbs. (48 tons) of produce in 18 months during the pandemic. An average of 25 lbs. of produce feeds a family of four for one week — therefore, we feed about 50 families per week. With your support, we'll continue this, keeping our cost to only $1.30/lb. of produce, which covers the produce and all labor to keep the project going.
We provide produce through partners to farmworkers, families, kids, homeless and veterans. (The main partners are: PV Loaves & Fishes, Holy Cross Food Pantry, and Encompass Community Services Transitional Age Youth program (TAY). We plan to add Pajaro Valley Community Health Trust and Camphill Communities to serve diabetes patients and disabled adults.
Farm Discovery and Live Earth are the heart that pumps the life blood of fresh healthy food options into our community. At Holy Cross Food Pantry I see the faces and how thankful the struggling families, the mentally ill that are homeless, the sick who are unhoused, the elderly in need, and those that have just fallen on hard times are to receive fresh healthy veggies that you grow, harvest and supply us with.


Trevor Hutchison, Santa Cruz