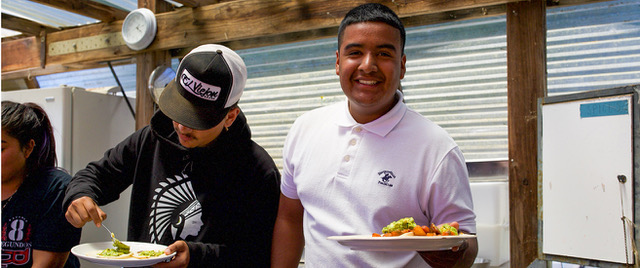 Organization Mission
"Food, What?!" is a youth empowerment and food justice organization. At FoodWhat, youth cultivate their well-being, liberation and power by engaging in relationships with land, food and each other.
Youth from Watsonville to Santa Cruz join the FoodWhat Crew through our Spring Internship, Summer Job Training and Fall Project Management programs. Within the supportive space of FoodWhat, youth grow, cook, eat and distribute farm-fresh, organic food while addressing local food justice issues.
The Big Idea:
Youth Empowerment, Food Justice
As economic, health and food insecurity deepens in our community, youth of color continue to struggle in these areas with disproportionate difficulty.
That's why at FoodWhat, we will continue to get fresh, healthy food to marginalized youth and their families — no matter what. Whether from growing their own food on the farm, or receiving fresh CSAs at their doorsteps — FoodWhat families will have a food access point that is stabilizing, nourishing and community-driven.
My mom would cook with the squash from the veggies I'd bring home. She'd make caldo or spaghetti with all of the vegetables. That's the only way my sisters could eat vegetables. One is 10, and the other is 12. They don't like vegetables at all. My mom doesn't always have time to go to the store and bring vegetables home. She isn't the type to bring broccoli, kale, or spinach or stuff like that, but when I'd bring them, she'd make smoothies and things. Bringing those home, that really made a difference. My mom goes to the store now and she'll get things to make juices and stuff like that.


Yvonne, Santa Cruz