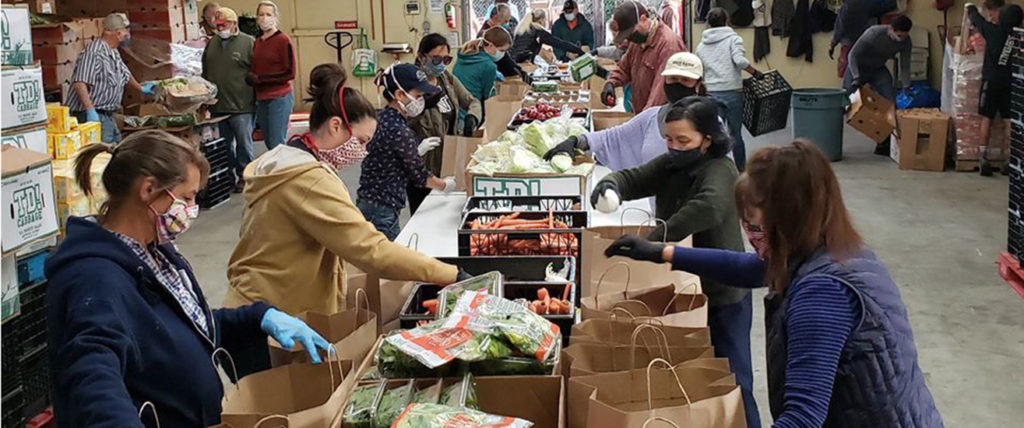 Organization Mission
Grey Bears improves the health and well-being of seniors and our community through food distribution, volunteerism, resource conservation and recycling.
Santa Cruz County is one of the least affordable areas in the U.S., and an estimated 42% of seniors do not have the income to meet their basic needs. As a result, food insecurity is one of our county's leading health issues. That's why our work is so vital.
The Big Idea 2022:
The Joy is in the Journey
Grey Bears works to solve the problem of senior hunger and isolation, and to engage everyone to reuse and recycle. Our healthy food deliveries, ways to volunteer and socially connect, and resource conservation programs make our community stronger, healthier and more sustainable — through economic hardship, COVID and fire recovery.
Our weekly food deliveries, daily distributions and hot meals nourish 4,700 seniors, families and farmworkers. The thrift store, bookshop and electronics refurbishing delight new owners while lowering our collective carbon footprint to help address the climate emergency. We do it all with the help of 550 amazing volunteers who will contribute 60,000 hours of service this year.
Our aging community is a hardworking asset — a natural resource with a diversity of skills, talents and boundless ways to contribute. We believe in moving forward together toward a common vision, and that the joy is always in the journey.
Please visit us and see for yourself what a model nonprofit looks like (and bring your stuff to donate to our thrift store or recycle)!
There is no way I can thank you enough for our weekly bag. You have helped me and my family immensely and financially. Mental illness keeps me from getting out sometimes. This helps me have less anxiety about the future. Thank you for working through the pandemic for us!


Jan M, Santa Cruz, age 57