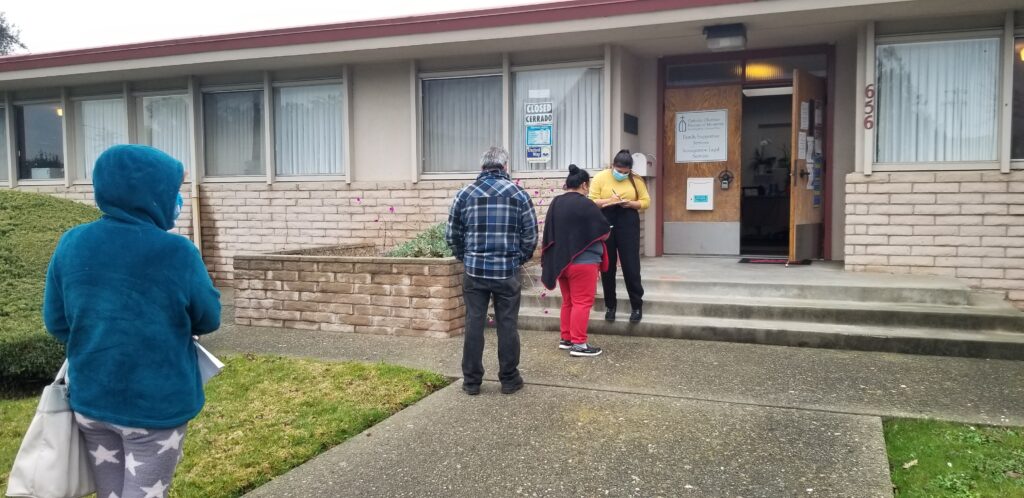 Organization Mission
The mission of Catholic Charities of the Diocese of Monterey is to provide service to people of all backgrounds and beliefs who are in need, advocate for social justice, and call other people of goodwill to do the same.
We provide support to individuals and families with essential resources, educational training, and connections to community resources to assist them on their path to stability. Our core services include: Financial Aid for Rent and Utilities, Immigration and Citizenship Services, MediCal and CalFresh Application Assistance, Nutrition Education, Disaster Relief, and Laser Tattoo Removal. Your support will be directed to Santa Cruz County residents. Annually, Catholic Charities Diocese of Monterey serves more than 20,000 individuals in Monterey, San Benito, Santa Cruz, and San Luis Obispo Counties.
The Big Idea 2022:
Together we thrive! Juntos salimos adelante!
Your generosity will provide direct rental and utility assistance to Santa Cruz County residents still struggling with the economic effects of the pandemic. Seniors and adults ineligible for federal aid continue to walk through our doors seeking help and hope to stabilize their homes. Your support can provide up to $1,200 in rental and utility assistance to each individual struggling with past due rent or bills.
Catholic Charities is a 501©(3) nonprofit agency serving people all backgrounds and beliefs.
Typically our Emergency Rental and Utility Assistance program runs November – February but has been adapted to a year-round program to support people financially impacted by the pandemic.
We feel like we have started living again. We now have housing in this expensive county, are going to school, and started on the path to achieve or goals. We feel less frustrated and sad now. We have hope. We are grateful to Catholic Charities staff.


Juana F., Santa Cruz