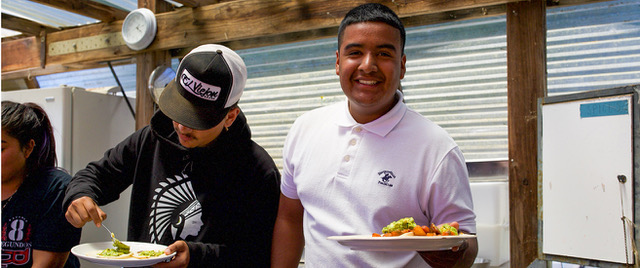 Organization Mission
"Food, What?!" (FoodWhat) is a youth empowerment and food justice organization. FoodWhat youth engage in relationships with land, food, and each other in ways that are grounded in love and rooted in justice. We provide a meaningful space where youth define and cultivate their empowerment, liberation, and well-being.
Youth from Watsonville to Santa Cruz join the FoodWhat Crew through our Spring Internship, Summer Job Training and Fall Project Management programs. They grow, cook, eat and distribute farm-fresh, organic food while addressing local food justice issues.
The Big Idea 2022:
Support FoodWhat's New Culinary Manager Role!
After a thorough, strategic visioning process, FoodWhat is endeavoring on our next stage of growth. Starting in 2022, we will introduce our newest position, the FoodWhat Culinary Manager!
Our Culinary Manager will create culturally-relevant recipes, teach youth employable culinary skills, coordinate distribution of home meal kits, hold online culinary sessions for youth, and support youth as they run their farm-based businesses.
Through FoodWhat, Latinx youth address health disparities related to lack of access to healthy food and the need for supportive community. Contributing factors to this inequity include poverty, racism, lack of employment opportunities, trauma, and compromised health. These disparities exist even while Watsonville families grow the food that feeds the region.
I buy more organic stuff now. My foster parents buy food, but I've been going to the grocery store on my own. I've bought kale, I've bought spinach. Before, I would eat whatever I could find at the house. I'd eat Fast Food too, yeah. I used to go to McDonalds. I don't do it as much anymore. I felt a difference in my energy. From eating fast food to eating greens and stuff definitely changed my mood.


Aaron B., Live Oak